Attention Clayton Alumni: It's time to dust off those sneakers and get ready for the annual Alumni Basketball Tournament!! This year's tournament will be held on April 22nd, 2023. We will be having a tournament this year for both men and women (as long as we get at least 16 participants to sign up for each respective tournament). The fee to participate is $10 per player, with the proceeds from the event going to support the fundraising efforts of the WFCA All-Star Football Game participants representing the Clayton Football Program (Avery Starzecki, Josh Young, Coach LaBlanc, and Coach Gilbertson). To help prepare for the event, we will be holding Open Gyms for Alumni on the Sundays of April 2nd, 9th, and 16th from 4:00-6:00pm. If you would like to participate in the tournament please email your name and graduation year to Jordan LaBlanc at
lablancj@claytonsd.k12.wi.us
. The respective teams will be created once we know how many people plan to participate. If you have any questions you can contact Jordan LaBlanc at his email as well. We look forward to seeing as many of you as possible!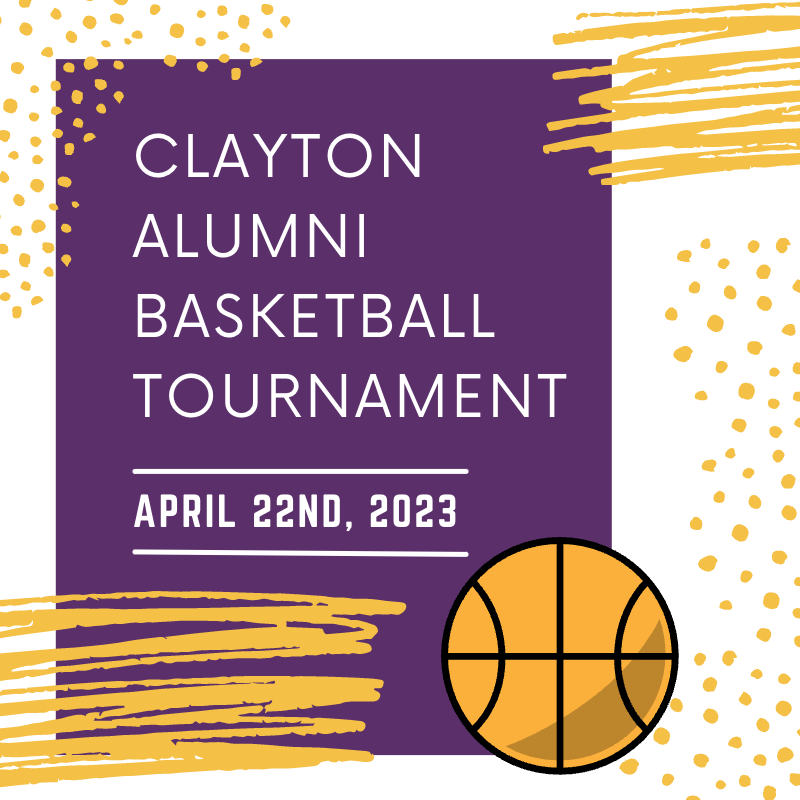 Congratulations to the Premier Complex Gymnastics, Premier Ice team for their success this year! Premier Ice will compete in Division 3 at state this Saturday, March 4th in Rochester. Clayton's Macy Grosskreutz will compete with the team and will also be competing in the Junior division individuals All-Around on Sunday. Good luck Macy and Premier Ice!!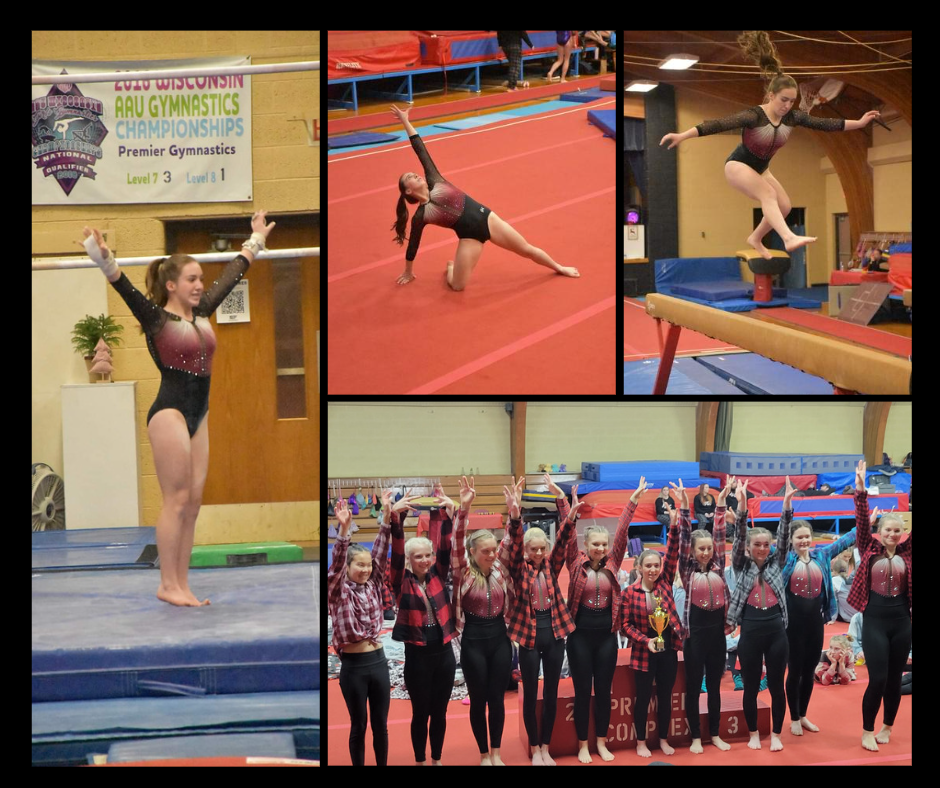 Clayton schools will be closed today (Wednesday, February 22) due to the inclement weather. Bears Club will be open for registered children.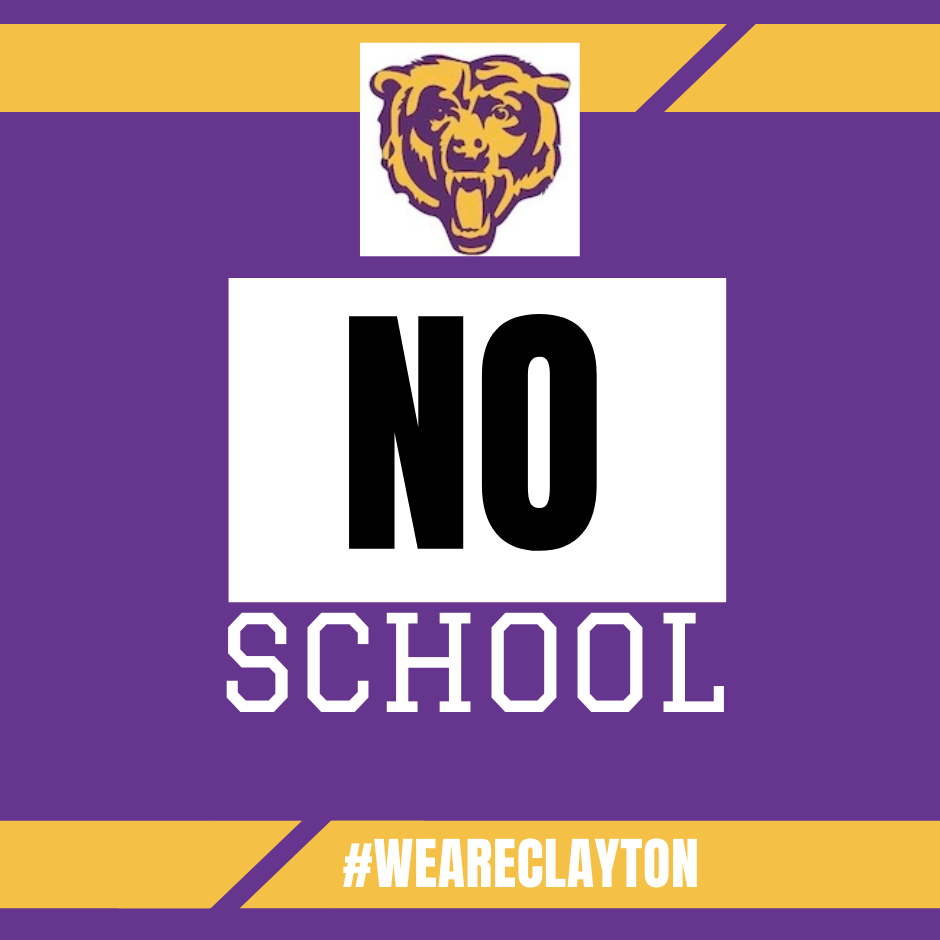 For the safety of all the children, the Clayton Schools will be closed on Thursday, February 23 due to the impending severe snow storm with blizzard conditions. This will include the Clayton Bears Club Child Care and also the District Offices will be closed. Please stay safe during this severe winter storm.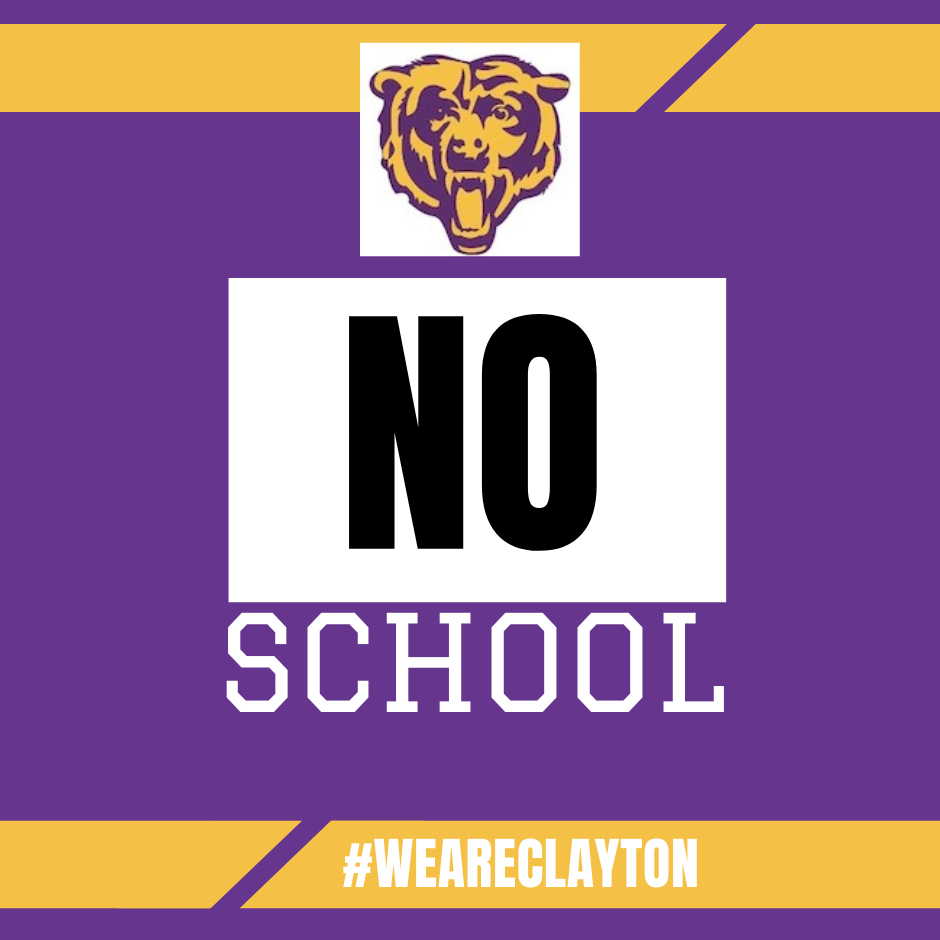 Clayton School District will use Distance Learning today, Thursday 1-19-23. Elementary students should have work they brought home and MS and HS students should check their email and Google Classroom for information from their teachers! Bears Club will be open. All after school activities are cancelled.

The Clayton School Board would like to announce the start of the process to replace District Administrator Ed Cerney, who will be leaving his position with the school district on June 30, 2023. The new administrator will be hired to start work on July 1, 2023. The School Board has enlisted the services of the Wisconsin Association of School Boards to assist in facilitating the search process. The Clayton Board of Education is interested in gathering input from staff and the community related to the hiring of a new district administrator. A Community Survey is one of the tools being used to help gather information from the various stakeholders in the district. The information gathered from the Community Survey will assist the board in the creation of a profile outlining the skills and characteristics sought in the candidates applying for the position and will also be used in the development of questions to be used in the interviews. The Community Survey can be accessed beginning January 13, 2023 on the Clayton School District website. The link to the survey will remain open through February 15, 2023. Please take a few moments to complete the survey, to assist the school board with finding the candidate that best matches the needs of the school district.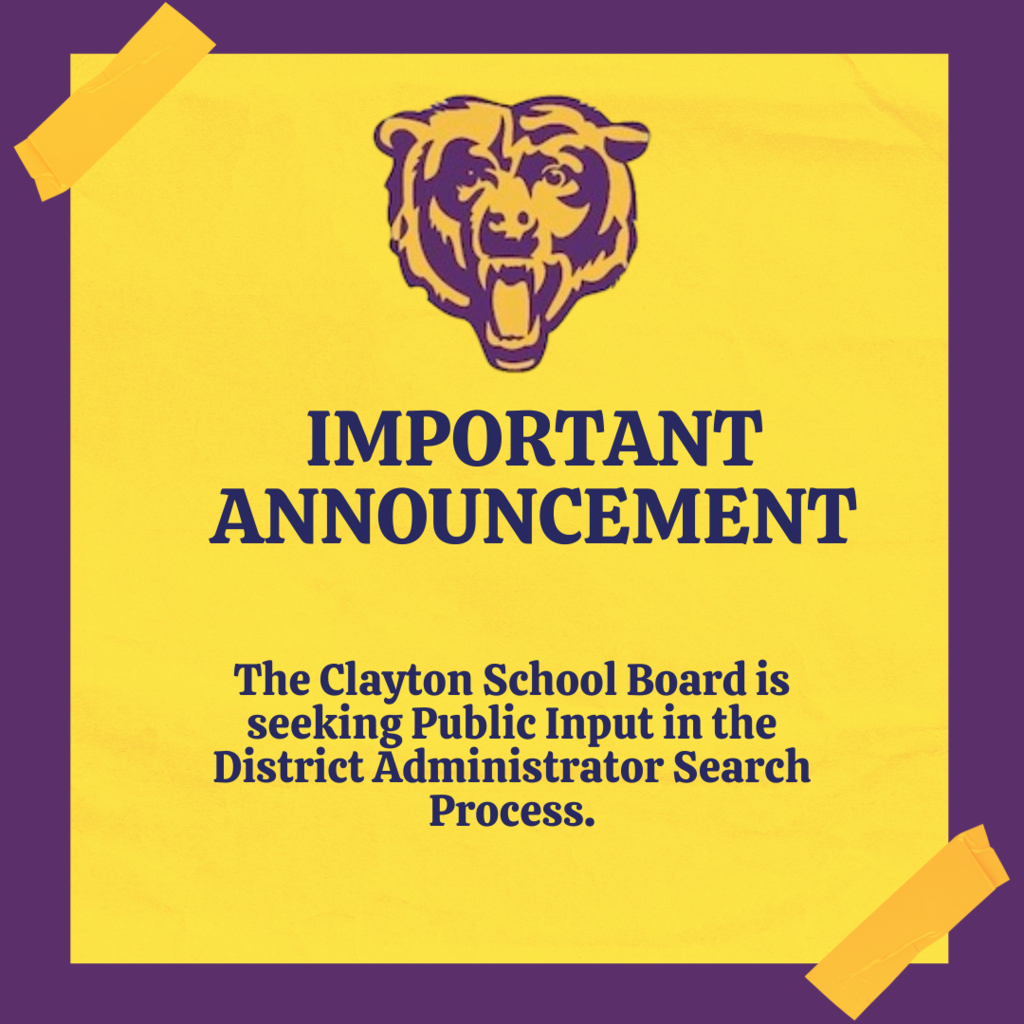 ATTENTION TRAP SHOOTERS/PARENTS: Clayton School Trap shooting registration opens on February 1st, 2023 and ends on March 20th, 2023 @ 12:00 pm. Students in 6th -12th grade that have a Hunter Safety Certificate are eligible to join the team. If you are interested please contact LuAnn Scharmer (team manager). The Clayton Trap Team shoots at the Richardson Sportsmen's Club on Sundays. Shooting typically starts at 11:30 am (depending on how many shooters are on the team). There is an online registration process through the Wisconsin State High School Clay Target League website. LuAnn Scharmer will provide instructions/information for online registration. Schedule: The Richardson Sportsmen's Club will be offering Open Shooting (which is open to the public on Sundays) on March 5th, 12th and 19th. Team members/parents are responsible for paying for clay targets, shells and bringing your own gun for open shooting. Parents must be responsible for their child. Schedule for School Trap Shooting: March 26th - Practice Week 1 April 2nd - Practice Week 2 April 9th - Reserve Week (scores can be used if the team has to cancel shooting for inclement weather etc). April 16th - Competition Week 1 April 23rd - Competition Week 2 April 30th - Competition Week 3 May 7th - Competition Week 4 May 14th - Competition Week 5 Fun Week - TBD All team members are invited to participate in the State Tournament, which is the weekend of June 9th - 11th in Rome, WI at the WTA (Wisconsin Trapshooting Association) Hometown Shooting Complex. For more information, please visit the Wisconsin State High School Clay Target League website or contact LuAnn Scharmer at
stevelucy89@gmail.com
with questions.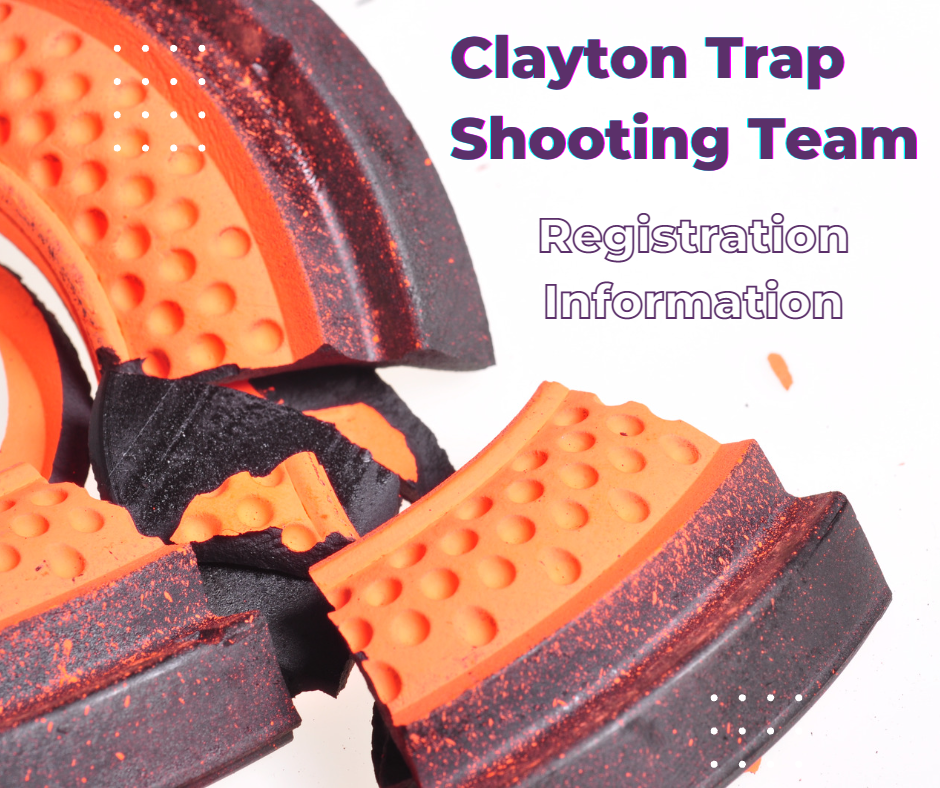 Clayton School District will use remote learning today, Wed 1-4-23. Bears Club will be open. All after school activities are cancelled.

Due to worsening weather conditions all after school activities have been CANCELLED tonight (01/03/2023).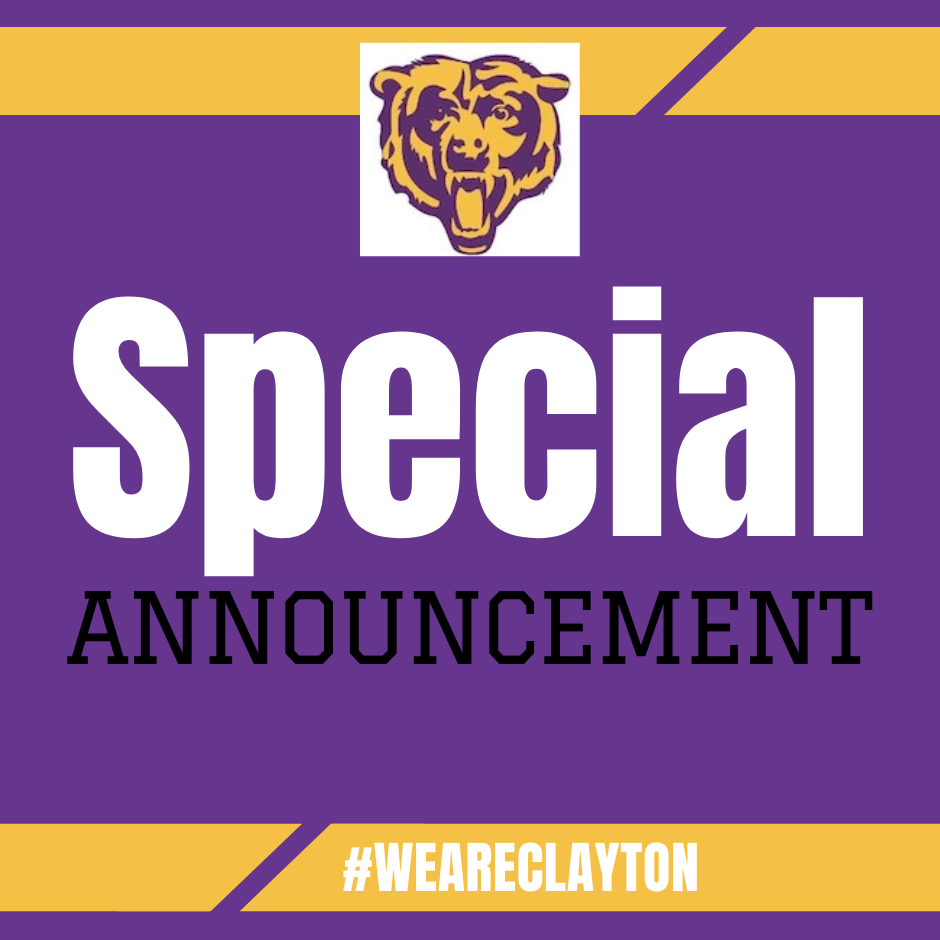 School is CLOSED today. There will be no after school activities. Bears Club is CLOSED as well.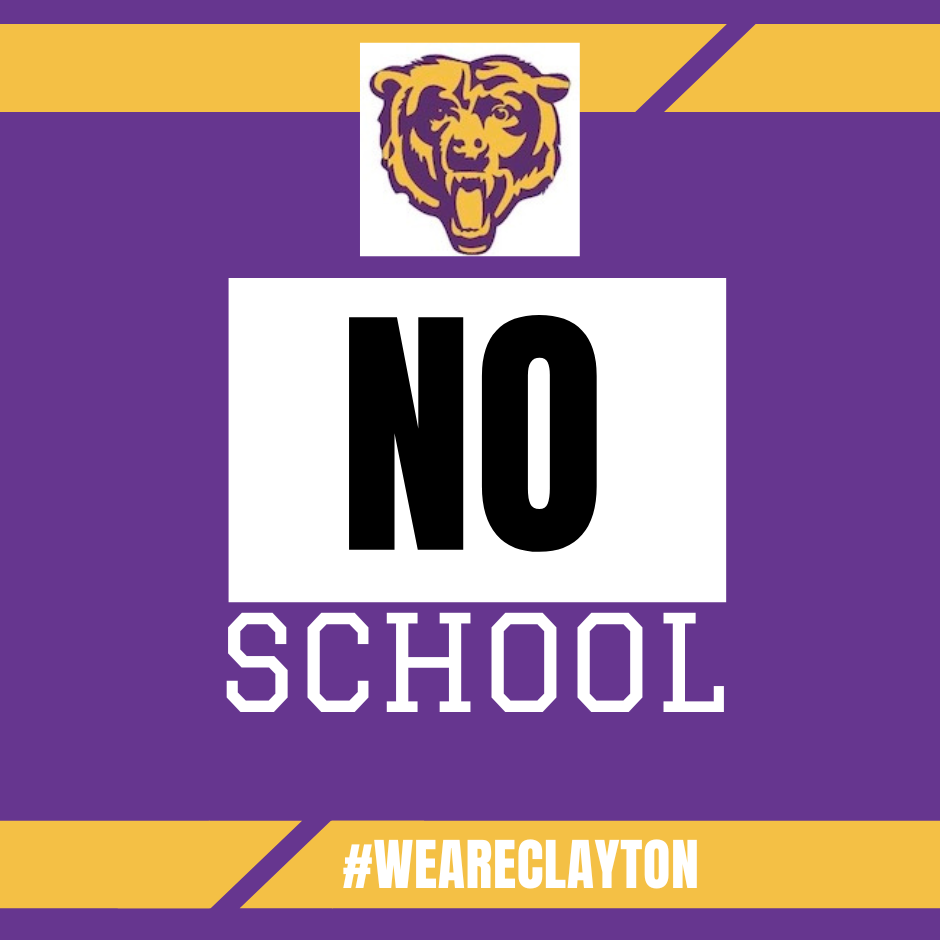 Due to weather conditions school will be CLOSED today (Wednesday, December 14th). Bears Club will open during normal hours for registered children.

Holiday Concert Community Band Invitation The High School Concert Band would like to invite all area instrumentalists to perform with them at the Holiday Concert on Monday, December 19. The community band selection will be "Christmas Eve/Sarajevo 12/24" arranged by Bob Phillips and George Megaw. There will be one rehearsal prior to the concert. The date and time for this rehearsal will be determined based on the participants. If you are interested in performing with the band, please contact Mrs. Zebro by December 12 and she will get the music to you as well as an instrument if one is available for your use. She can be reached at 715-948-2163 x405 or
zebrod@claytonsd.k12.wi.us
. The High School Band and Mrs. Zebro look forward to performing with you during the holiday season!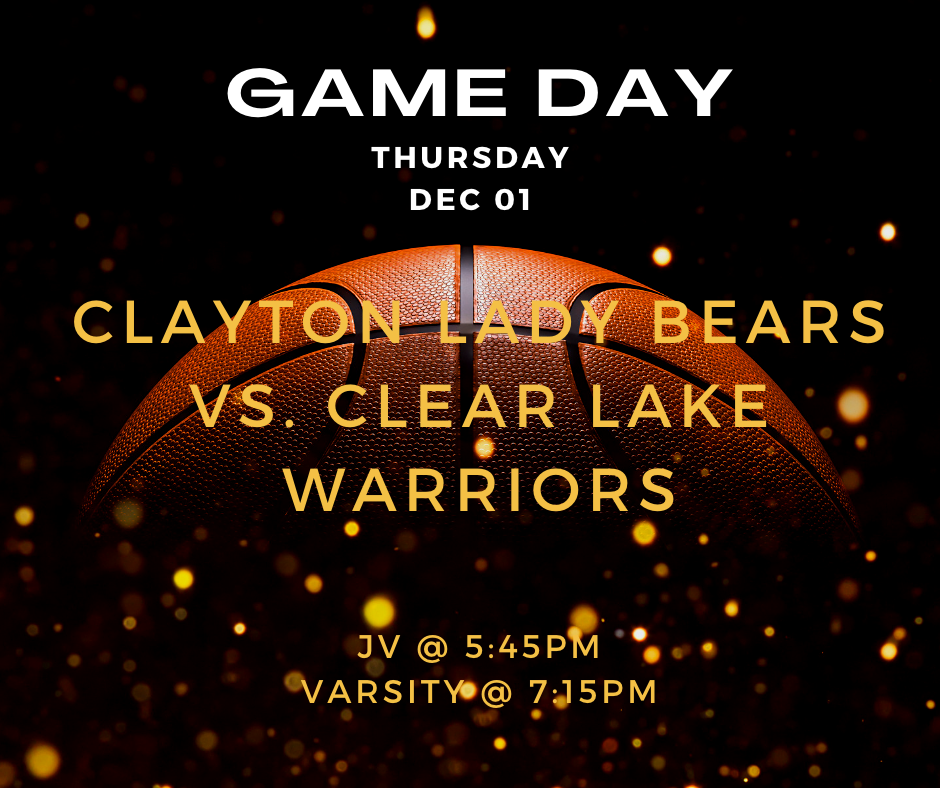 ATTENTION: Anyone is who interested in being part of the Clayton Trap Team please see below. Shells for the season are available for pre-order! Please contact LuAnn Scharmer to get on the list or with any questions!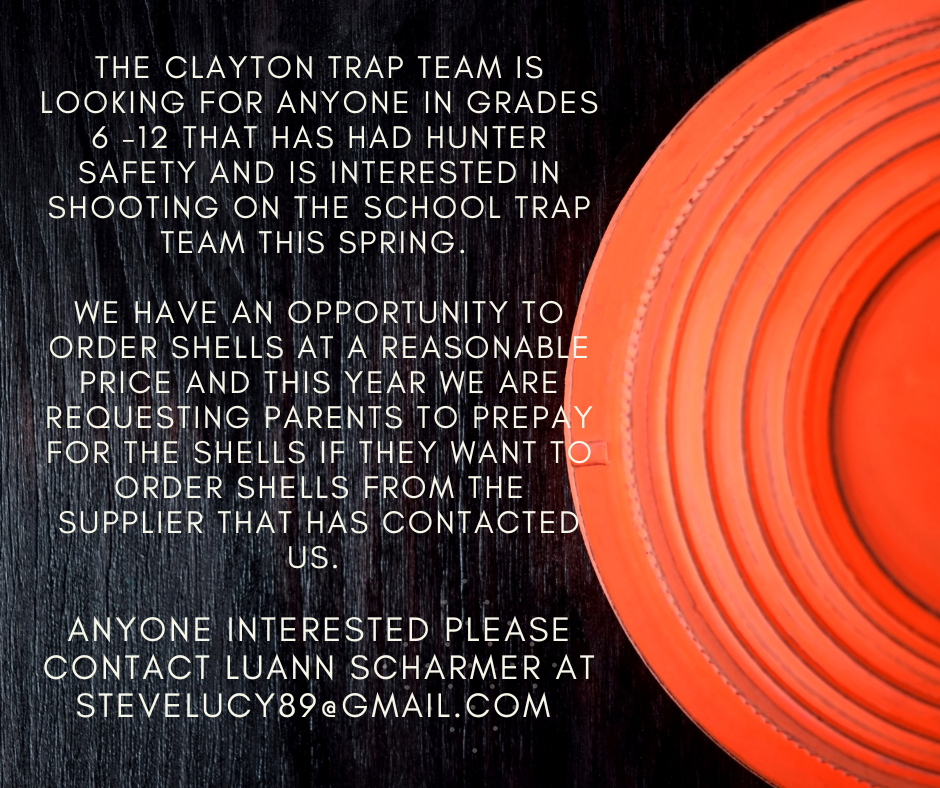 Please join us on Thursday, November 10th for our annual Veterans Day Celebration!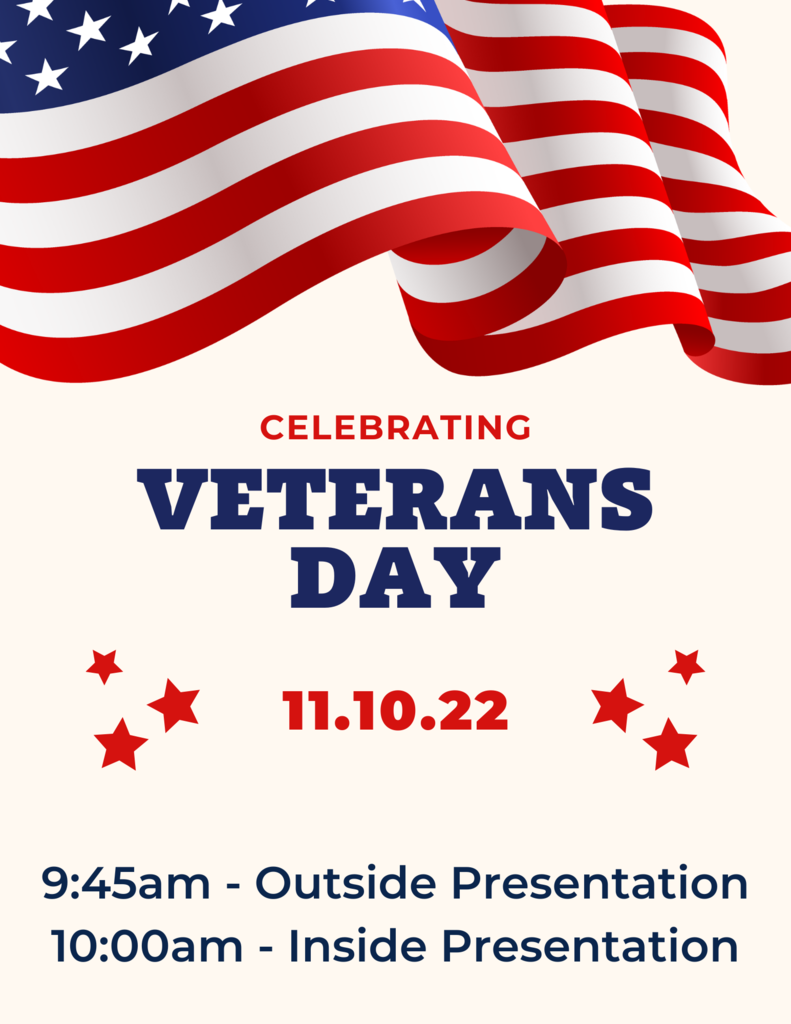 Congratulations to our elementary students of character! Our elementary students of character were nominated based on the character trait responsibility. Responsibility is taking action and understanding the impact of our choices. Back row L-R: Kason Volkmer, Lexy Newbauer, Jesse Elmer, Remi Will, Katie Harris, Solomon Schradle, Lennon Nelsen Middle Row L-R: Abi Bylander, Adisonn Powers, Tommy Burger, Addison Weber, Madison Sigsworth Front Row L-R: Dixie Mewes, Kennedi Gilbertson, Paige Arneberg

Congratulations to our middle school and high school students of the month! In the middle school our student of the month, Rylea Wynn, was nominated by Mr. Jacob Traynor. Mr. Traynor said, "Rylea deserves to be student of the month for responsibility because every day she comes to class prepared, she turns everything in on time. She consistently produces exceptionally high quality complete assignments/products. She is never tardy and she always asks permission before leaving the classroom. She also takes incentive to help out her classmates with different things they have trouble understanding. She genuinely loves school, has a positive attitude every day and she not only accepts the responsibilities of being a student, but she clearly takes pride in being a responsible student. Our high school student of the month, Marie Vandenbrink, was nominated by Mrs. Terri Magnuson. Mrs. Magnuson said, "I am nominating Marie because she is a student that takes her academic responsibilities very seriously. Marie comes to class with her work finished, asks questions when she doesn't understand, and does what is expected of students. She goes above and beyond when she is absent. She takes the initiative to email her teachers when she is gone so she has the work completed as soon as possible. Marie's extra efforts are appreciated! Marie also helps out with the family duties; especially helping out with her younger siblings."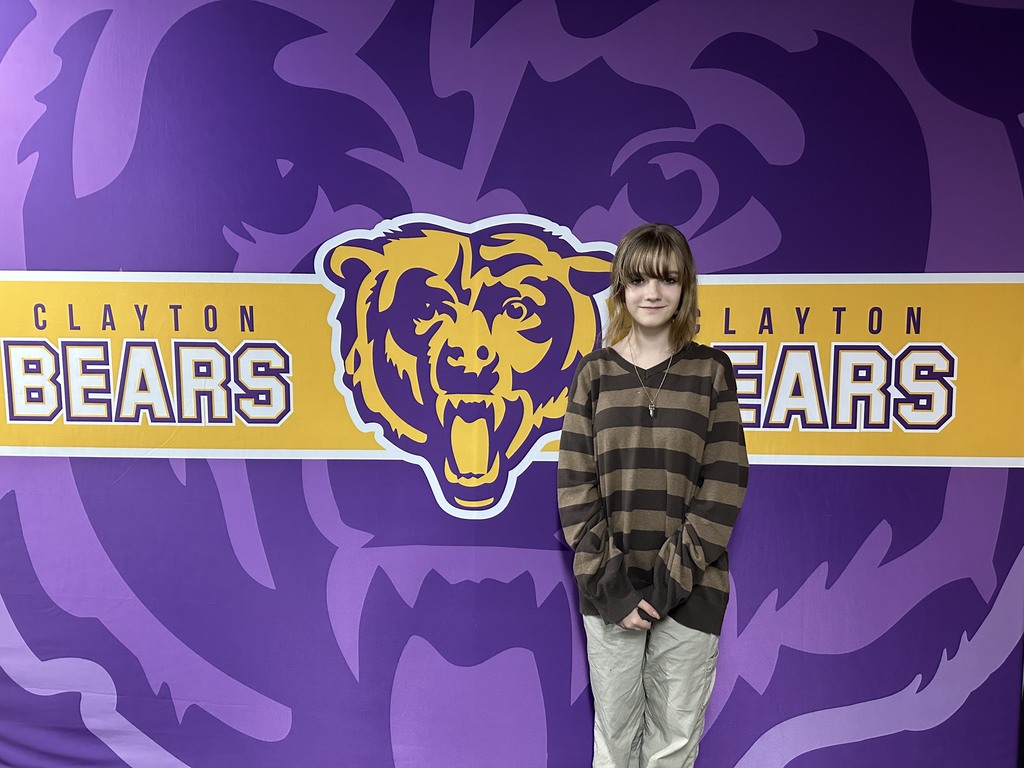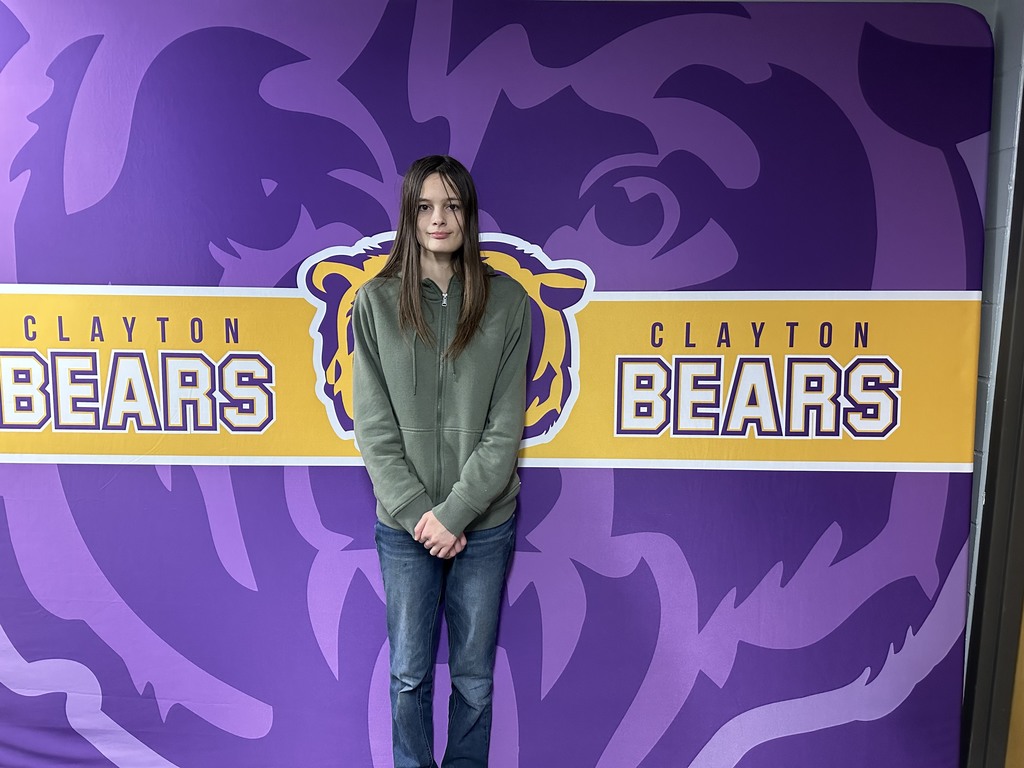 The Clayton Music Department is once again selling holiday wreaths, garland, swag and crosses! Bergmann's Greenhouses will make all the wreaths and garland. All wreaths will come decorated with pinecones and a red velvet bow. If you haven't seen these before, they are beautiful! Get your orders in now in preparation for the holiday season.....only 61 days until Christmas!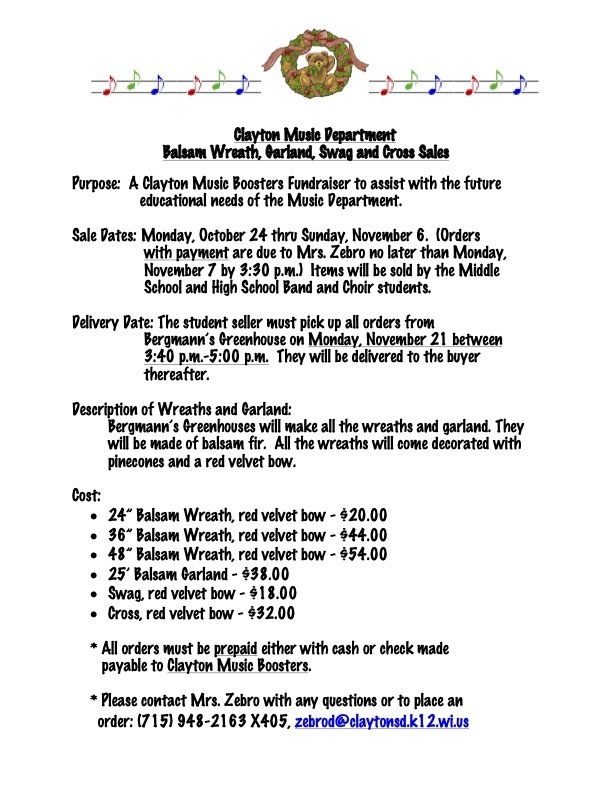 The Clayton National Honor Society will be hosting a Veterans Day Breakfast for all local veterans and a guest on Thursday, November 10th. Breakfast will take place prior to the Clayton School District's Veterans Day program. Please see below for additional details!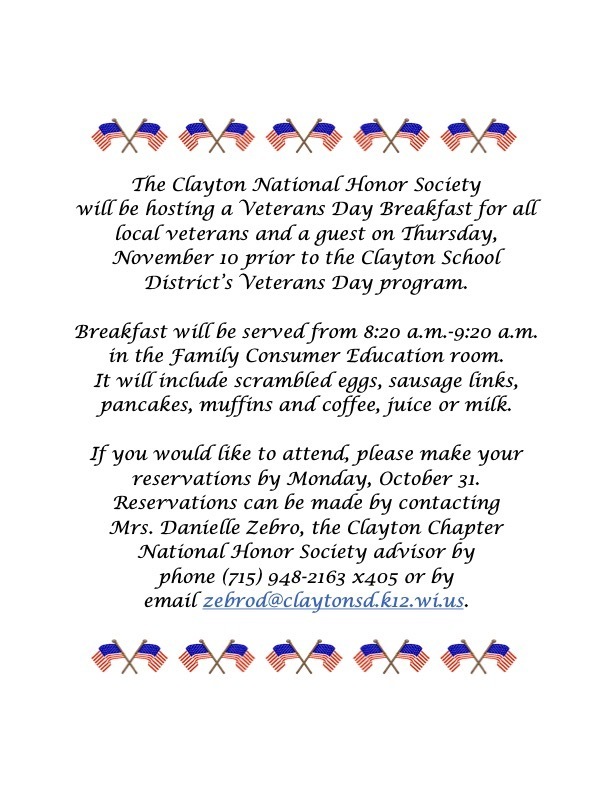 Picture Retake Day with Cahill Studios is on Tuesday, September 13th! If your child needs a retake (had their picture taken and needs a new one) please fill out the RETAKE FORM below or give Cahill Studios a notice no later than 48 hours before picture day. If your student missed the first picture day please let them know to get their picture taken on retake day. Retake Form:
https://share.hsforms.com/1YHrWwVMVQEevcfR0u6a6wgcrwo6
Please note.. The email with your link to order may go to your junk, spam, or promotions folder. It will come from the following email address:
no-reply@imagequix.com
. It is a secure link and it will allow access to your student's gallery. If you don't get an email 2-5 business days after picture day, please reach out to Cahill Studio's customer service team. Email:
orders@cahillphotostudio.com
Office Number: 715-268-9363 Toll-Free Number: 866-229-0135