Attention Class of 2023 Parents! Anyone interested in helping with Post Prom planning, please attend the following meeting on September 8th at 6:30-7:30.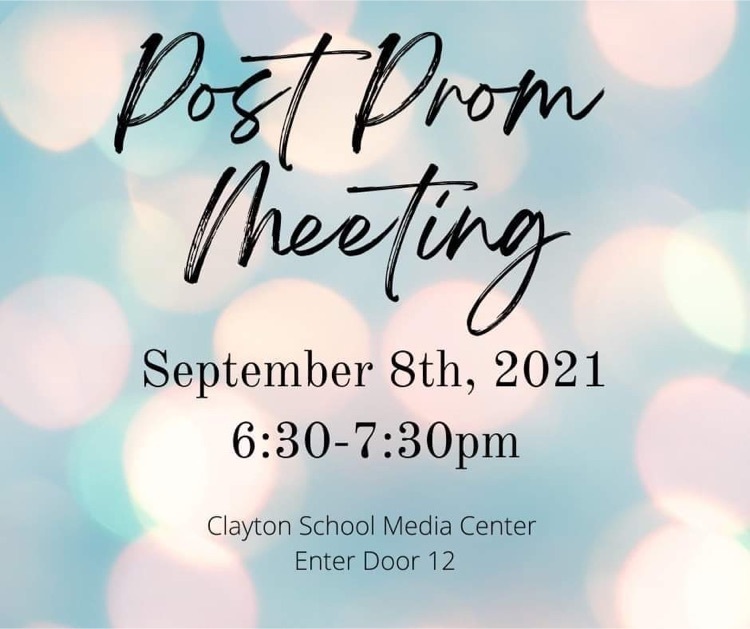 Middle School Volleyball Practice starts Monday, August 23rd from 3:30-5 Picture day is Wednesday, September 8th @ 3:30. Reminder that athletes need to have an updated physical or alternate year card completed prior to practice, register online and pay their athletic fee. Any questions, please contact Mr. Nehring Thank you!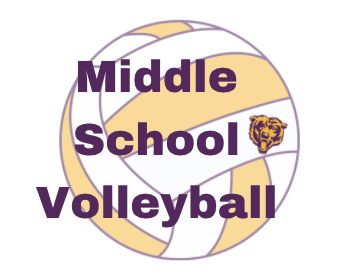 REMINDER! Registration Days are NEXT WEEK! Can't wait to see you all! Families with last names A-K should attend August 4th from 1-5:30 PM and families with last names L-Z should attend August 5th from 1-5:30 PM. If you have any questions, please give us a call! Thank you!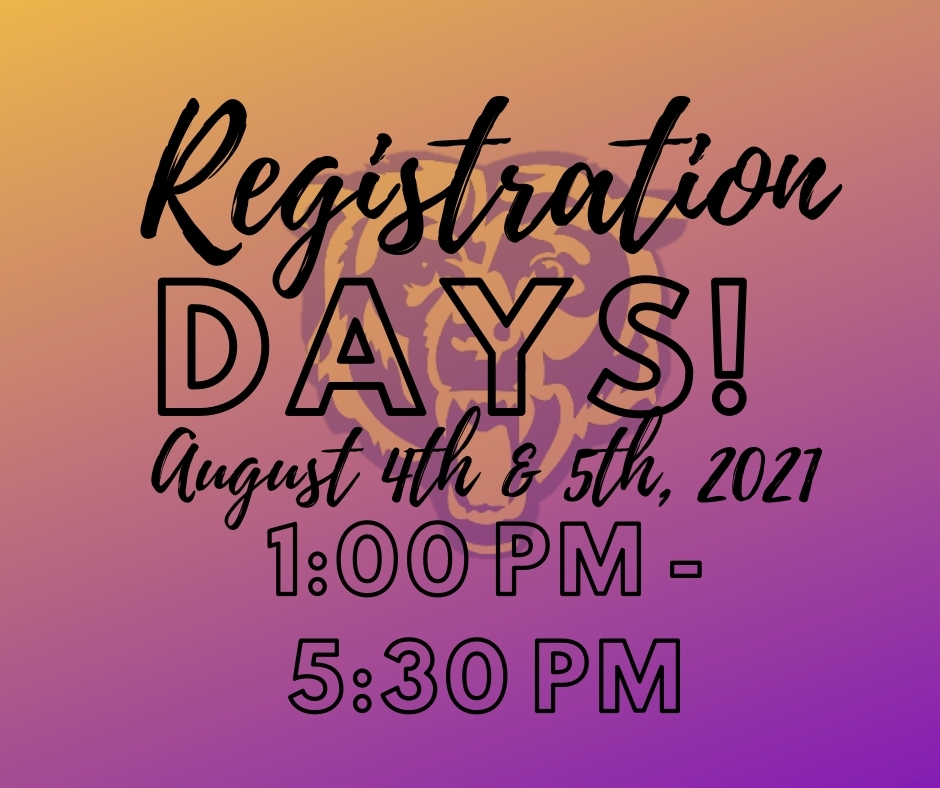 Attention Clayton Families and Community Fitness Center Members An item has been found in our fitness center that I am sure someone is missing! If you are missing something that you believe was left here, please give us a call to identify! 715-948-2163 **We will not name what the item is, owner should be able to identify what was lost when they call to claim**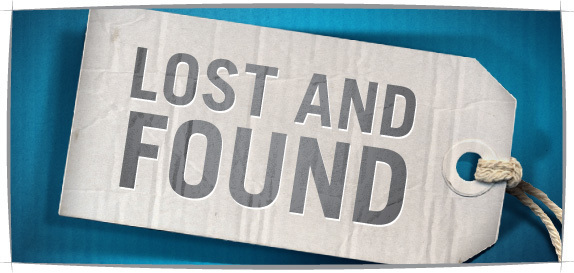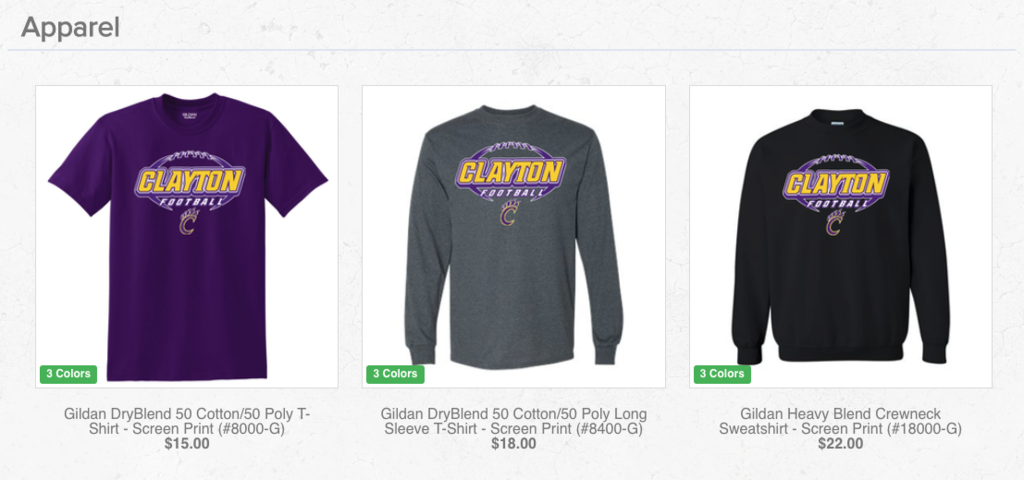 On Friday, July 16th, the Clayton Football Program was represented by Coach Dan Gilbertson (Offensive Coordinator) and Gunnar Lewis (Running Back) at the WFCA 8-man All-Star Game. Even though the North team fell to the South team by a score of 35-16, Gunnar had a very good game individually. He led the team in rushing with 57 yards on 17 carries, added 2 rushing touchdowns, and caught 2 passes for 20 yards. He ran in a 2-point conversion, and also threw a halfback pass to successfully convert the other 2-point conversion! Both of these men did a great job of representing our school in this event. Congratulations to Dan and Gunnar on this awesome honor!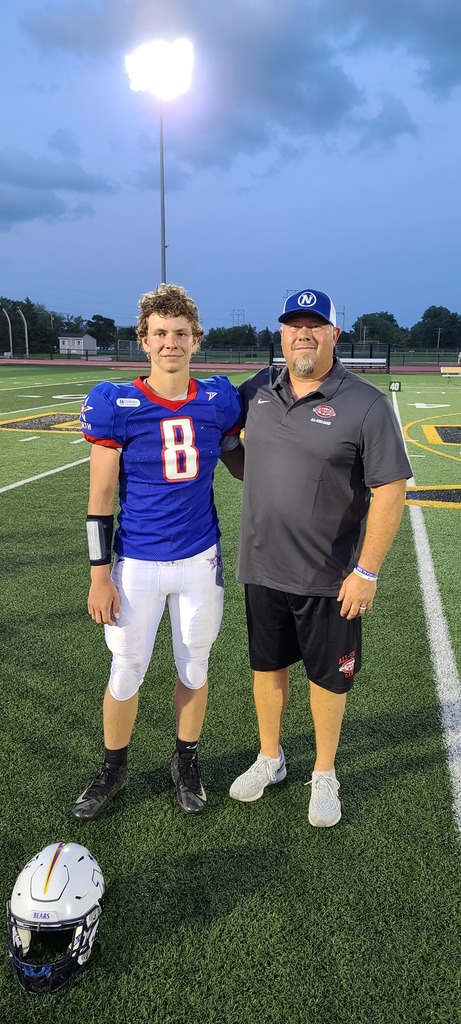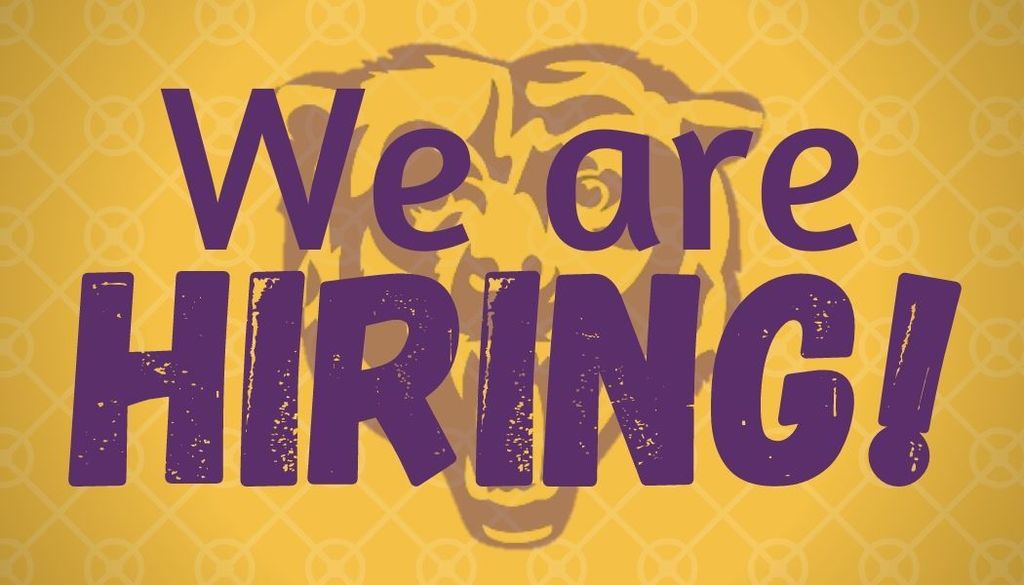 Clayton School District Vacancies The Clayton School District is currently hiring for the following positions: Paraprofessional – Part Time Position • Individual will provide a variety of student support services. • Up to 29 hours per week when students are in attendance. • Knowledge and Skills: o High School Diploma or equivalent required o Effective communication skills o Ability to maintain confidentiality o Experience working with students who have diverse learning styles and/or needs preferred but not required o Starting wage: $15.63 per hour -------------------------------------------------------------------------------------- Long Term MS Substitute – Starting mid-September for approximately 12 weeks • Current MS substitute license or eligible • Wage: $180 per day • Classroom instruction experience preferred • Provide Instruction for MS classes o Develop lesson plans supporting the curriculum provided o Administer and grade – tests and assignments o Attend school related activities within the normal school day o Maintain a positive classroom environment, safe for all students To apply for either position: send Letter of Application with references To: Edward Cerney, District Administrator Clayton School District PO Box 130 236 Polk Ave W Clayton, WI. 54004-0130 Or by email to:
cerneye@claytonsd.k12.wi.us
Deadline to Apply: July 30, 2021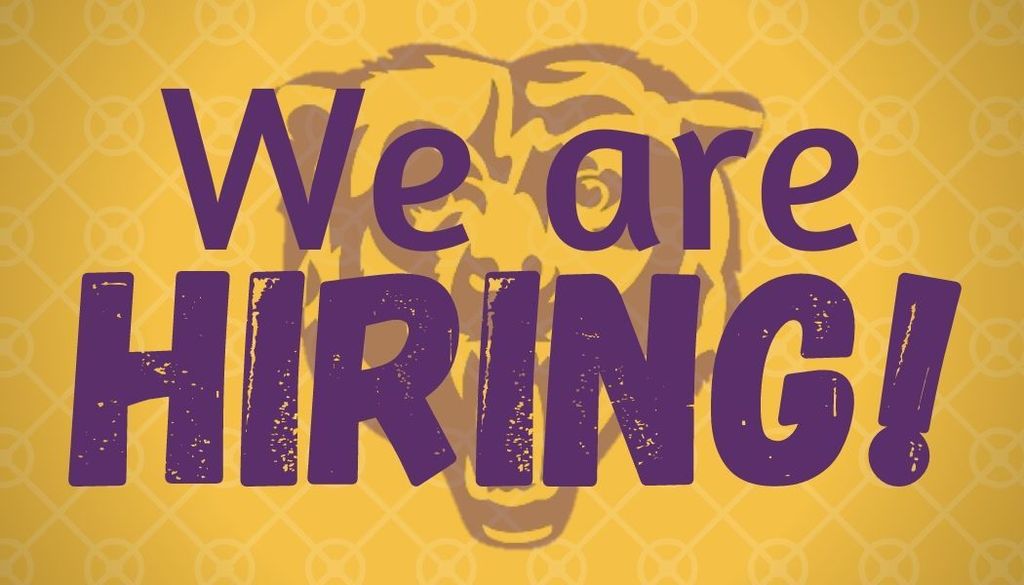 We are excited to be launching our brand new website this week! Stay tuned for more information!

Last Thursday we finished up our second week of basketball camp. This older group came in hungry to get better at their game. We had a much cooler week in the gym and got a lot of work done on skill development. I would like to thank the players for attending camp and the parents for signing them up. Have a great summer break and keep working on those fundamentals. #weareclayton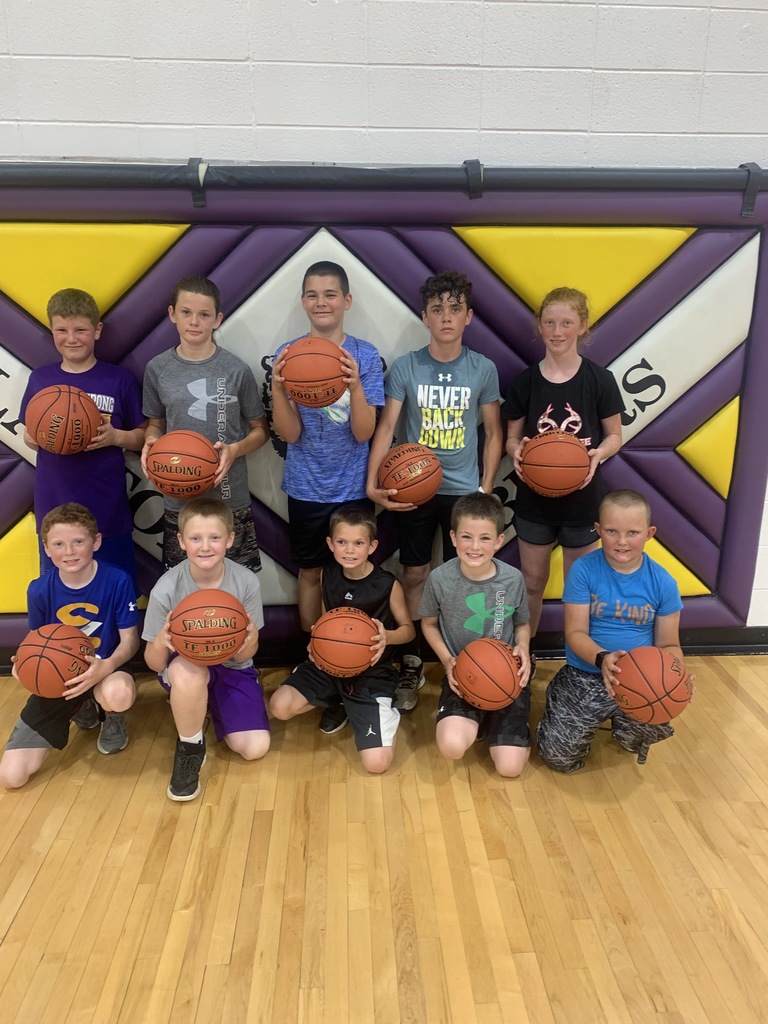 At the Clayton School Board meeting tonight, the board discussed COVID mitigation and decided to lift the face covering requirement beginning Tuesday June 22, 2021. While face coverings are no longer required in the building, if students or families still wish to wear face coverings they may do so. Additional expectations will be lifted when the school opens again in the fall including having in-person instruction all five days, and a more pre-pandemic looking school day. As always if you have additional questions, please contact the school. -Ed Cerney, Superintendent #weareclayton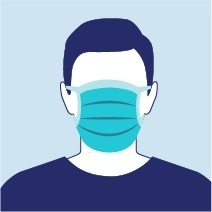 STATE SCHOOL TRAP SHOOTING TOURNAMENT RESULTS High Gun Novice Male- 2nd place - Tim Becker Jr. 84 birds out of 100 17th place - Lincoln Grosskreutz 73 31st place - Cooper Flanigan 70 52nd place - Cain Casarez 83 54th place - Owen Anderson 62 56th Place - Jacob Moen 61 (I will add that this is the first year shooting for most of them!!) High Gun Novice Female - 13th Place -Chloe Jackson 69 out of 100 birds 18th Place - Eva Siemsen 64 21st Place - Addy Jeska 63 High Gun Novice Overall - 2nd Place - Tim Becker Jr. 84 26th Place - Lincoln Grosskreutz 73 42nd Place - Cooper Flanigan 70 47th Place - Chloe Jackson 69 55th Place- Eva Siemsen 64 72nd Place - Cain Casarez 63 72nd Place - Addy Jeska 63 77th Place - Owen Anderson 62 79th Place - Jacob Moen 61 High Gun Junior Varsity Male - 45th Place - Aidan Olson - 81 81st Place - Logan Gitzen 76 143rd Place - Andrew Young 67 153rd Place - Dayne Mumm 65 156th Place - Gabe Rosen 64 High Gun JV Female 1st Place - Kelsi Jackson 92 8th Place - Reanna Lewis 82 39th Place - Shelby Jeska 45 High Gun JV Overall 2nd Place - Kelsie Jackson 92 43rd Place - Reanna Lewis 82 55th Place - Aidan Olson 81 98th Place - Logan Gitzen 76 173rd Place - Andrew Young 67 185th Place - Dayne Mumm 65 188th Place - Gabe Rosen 64 217th Place - Shelby Jeska - 45 High Gun Varsity Male- 21st Place - Brady Mumm 96 out of 100 41st Place -Gunnar Lewis 94 53rd Place - Preston Jackson 93 68th Place - Colton Flanigan 92 68th Place - Spencer Wirth 92 93rd Place - Tannar Lewis 90 153rd Place -Thomas Gitzen 86 172nd Place - Colton Zacharias 85 197th - Dayton Becker 84 206th - Ben Pietz 83 High Gun Varsity Female 20th Place - Tierra Vance 74 High Gun Varsity Overall 22nd Place - Brady Mumm 96 out of 100 43rd Place - Gunnar Lewis 94 56th Place - Preston Jackson 93 71st Place - Colton Flanigan 92 71st Place - Spencer Wirth 92 101 Place - Tannar Lewis 90 164th Place - Thomas Gitzen 86 211th Place - Dayton Becker 84 220th Place - Ben Pietz 83 293rd Place - Tierra Vance 74 Team Totals Overall - There were 28 teams at state competition. 9th Place - Clayton 25 Straight Club at State Kelsi Jackson Preston Jackson Gunnar Lewis Tannar Lewis Brady Mumm Congratulations everyone!!!! Job well done!! #weareclayton

A big thank you goes out to these young players for sweating it out this week at basketball camp. Despite the hot and humid conditions, these little hoopers worked hard on their ball handling, passing, and shooting all week long. Thank you parents for registering your sons and daughters for camp and I hope they continue to build on their skills. —Coach Schradle

If your community organization/business would like to participate in the Clayton Cheese Days Parade on Saturday, June 19 please contact Danielle Zebro by Friday, May 28.
zebrod@claytonsd.k12.wi.us
715-948-2163x405 Registration form below!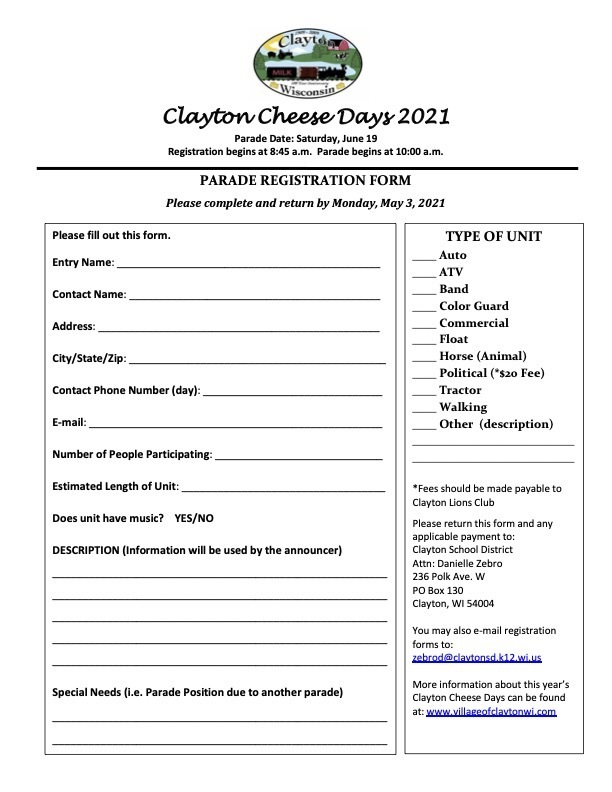 Our middle school track team! Congratulations on another successful season! #weareclayton

I hope everyone is having a great Friday!